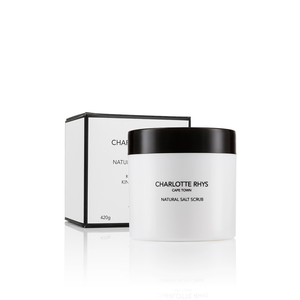 Charlotte Rhys - Natural Salt Scrub
Regular price
Sale price
R 350.00
---
A sparkling combo of pure salt crystals and fragrant natural oils to revive tired skin, leaving it radiant, smooth and moisturized.
Available in 9 incredible fragrances.
Pomegranate - Fresh, clean and piquant with a spike of floral ecstasy, this is an exciting fragrance. Apple, Lemon, Orange and Blackcurrant are alive in the top notes, with Pear, Lilac and Violet pulsing through the heart. Peach, Coconut and Musk dominate the base.
Urban - This is an invigoratingly zesty fragrance with citrus and green notes combined with a Floral, Fruity, Spicy Pink Pepper heart intricately balanced on woody earthiness of Vetiver, Tonka Beans and Musk.
Pure Charcoal - This unique fragrance begins with hints of Citrus and Peppercorns, warms with aromatic notes of Patchouli and Tonka then with a final flourish it lingers on the skin with a base of Amber and Vetiver.
No 17 - Clean, fresh and zesty this is a truly delightful fragrance. The top notes dance with Yuzu, Bergamot, Lemon and Tarragon, while Lily of the Valley, Nutmeg, Water Lily and Reseda perfume the heart. Cedar wood, Sandalwood, Vetiver and Musk give the base its depth.
St Thomas - Light and crisp, with rich and refined undertones, this is a fresh and invigorating fragrance. The top notes sing with Mint, Birch Leaf, Grapefruit and Green Apple. Geranium, Lavender, Tarragon and Aquatic Accord fill the heart, whilst Vetiver, Patchouli and Moss build the base.
Bitter Orange - Tangy plus sweet spice and a smoky undertone make this warm and charming fragrance truly enticing. Cinnamon and Bergamo burn through the top notes, while Tonka, Cedarwood and Tobacco Leaves smoulder in the heart. The base glows with Musk,Vanilla,Leather and Sandalwood.
Under the Leaves - Versatile and easy to wear, this warm, sensual fragrance which is instantly uplifting. The top notes are alive with Orange and Tomato Leaves. Hyacinth and Lily of the Valley dominate the heart, while Musk and Cedarwood fill out the base.
Rose - Stroll among the heavenly scented blooms, this is a heady fragrance. Rose and only Rose defines the top notes, while Rose and Violet permeates the heart and makes it last and last.
Bergamot & Lime - A zesty citrus fragrance with a mouth-watering combination of freshly squeezed Lemon and Lime, infused with Indian Ginger root, leading to further citrus notes of Orange, Lemongrass and Mandarin, Bergamot and Moss.